Having trouble driving any or more traffic to your website? You are not alone. This is one of the most challenging and yet most crucial aspects of any business nowadays.
The time has long passed that people found good places to eat, shop or buy any other product or service just by walking around in town or hearing their neighbor mention it. Sadly…
Everyone is online and looks for answers online. That is a given.
So, if you just put your website online, don't be surprised that you only reach a few to a few dozen users per month. This is dead normal. Even if you apply all the strategies mentioned hereunder, it takes time to increase your traffic. So don't be alarmed.
That being said, I gathered the most useful tips to increase your website's traffic in 2021.
Analyze and optimize your marketing strategy
If you browse the web on the topic of increasing website traffic, a generally accepted way to increase your sales and grow your company, you find very complex answers. Nearly all of them are focused on SEO.
But, and here is the but… here is why that should not be your first concern.
The most successful and high-ranking websites are owned by companies that are successful. Because they were successful in their marketing approach, the traffic on their website grew organically. Afterwards, they adapted their website bit by bit to the needs of their clients. This resulted in even more clients… not the other way around.
In short, you may or may not want to hear this, but if your website is unsuccessful you will have to look at your marketing strategy AND start with the basics.
One of the most important basics in marketing is the Golden Circle. In short, it boils down to defining your WHY, then your HOW and then – lastly – your WHAT. Most companies have a clear idea of the WHAT and some also of the HOW, but rarely of their WHY.
"The goal is to do business with people who believe what you believe."  ~ Simon Sinek
The concept is explained by marketing guru Simon Sinek in this video:
So how should you implement this in your business strategy?
First of all, simply write out your WHY, HOW and WHAT. Then ask yourself if the message of your WHY is reflected in your communication tools and (graphic) designs, which are:
Websites & social media images, including ads and web content
Emails you send out, again with certain images and content
Branding elements: logo, colors, business cards, flyers…
A second important question you need to be asking yourself is WHO are you targeting? Define your customer personas as specifically as possible. Say you own a clothing webshop. Is your customer persona a young sort of materialistic girl who loves shopping online or a woman in her mid-thirties looking for quality, comfortable and sustainable clothes? TIP: if you already have some good (long-term) clients, you can actually base your personas on those clients.
Then ask yourself:
What does their personal and social life look like? E.g. where do they live, what do they like to do in their free time, what are their core values…
Does your customer persona need or want something specific?
What is their problem?
Can you estimate their budget?
…
This will help you find out what images, content, prices even colors might be attractive, recognizable, create certain positive emotions… for your personas.
Now, implement those in your communication tools as well!
A good marketing strategy will ultimately increase your sales, which in turn will increase your website traffic. It is as simple as that.
Worked on that?
Then there are many additional things you can do to increase your website traffic, which should – ideally – also be part of your marketing strategy. I will explain the most useful tips hereunder.
Put lots of content on your website
If you don't have interesting, engaging and well-written content on your website, there is no chance in – excuse me for the expression – hell that your website will get a lot of traffic.
What is important is to have unique content and a lot of content. Of course, you may argue that you can only have so many web pages, for example, a contact page, an about you page, a page with services… and so on.
So how to put more content on your website then?
Example. Say you own a renovation company and you put a blog about DIY tiling floors on your website. This content is targeted at a person thinking to do some renovating work in their home and not just targeted at potential clients ALREADY looking for a renovation company. So maybe this person is looking for a way to put tiles himself, ends up on your website and notices you could do it for them… If not, at least you now just had one more visitor on your website. And Google counts the number of visitors to define your ranking!
From this, you (hopefully) understood that the easiest way to add lots of content to your website is via a blog page. Add blogs on a weekly or at least monthly basis, and in time you will see your traffic increase. That is if you also take into consideration other rules and tricks, such as related to SEO, marketing… As explained here above and hereunder. To find good blog topics, implement SEO and blog writing itself you can contact a content writer – like me. That is our job!
Want to write your own content? Mind that writing good content is a very specific skill, and the bounce rate of your website is highly dependent on it! Find out more about bounce rate in this video.
Promote your website via social media, groups and forums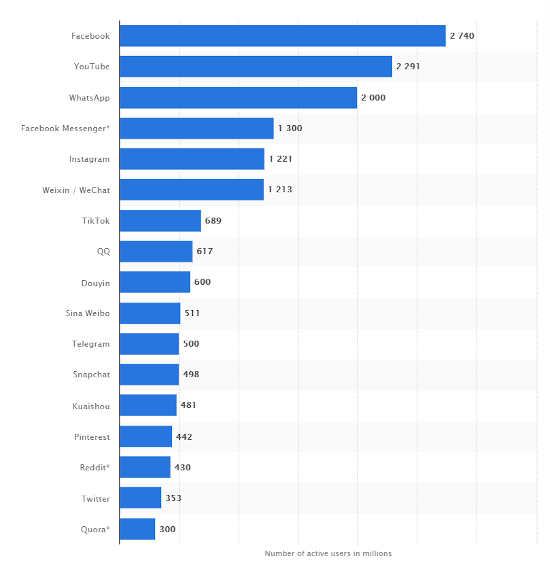 One of the best ways to drive organic traffic to your website is and will probably always remain social media. Well-known social media channels are of course Facebook and Instagram. If you have video material, you can also go for a YouTube and/or TikTok channel.
According to the statistics I found on statista.com Facebook and YouTube are the social media channels with the highest number of users in 2021, followed by Instagram and excluding WhatsApp, which is not a commercial social media channel. Pinterest and Twitter have a somewhat lower reach, but they can be interesting to have. It all depends on your company and your audience.
According to a recent blog on website traffic I found on Hubspot, about 66% of all Pinterest users actually buy things they come across on Pinterest. That is a lot, right. So, although the number of users is still somewhat low, the engagement and click rate is higher than say on Facebook.
The key of social media marketing in 2021 is to interact! Make it personal, create engaging content, such as (IGTV) videos, infographics, GIFs, stories with polls, reels and so on. Videos in particular are expected to have increasing importance in the following years, according to the Cisco Annual Internet Report (2018-2023).
Social media in the following years will be all about video and other interactive content. Sorry, for those who are shy to pop up on camera…
To be up-to-date with what is 'hot' in your industry at the moment, you can also try to follow competitors with many followers. All the while – of course – keeping in mind what your target audience is.
In addition, community building has growing importance. You can achieve this by creating or being active on Facebook groups, subreddits and other forum websites, as well as by actively reacting to people's questions and remarks on your own posts.
I would also advise to work on your personal LinkedIn page and even start a LinkedIn page for your (new) business. Yes, the popularity is somewhat lower. For some reason, it is not even included in the statista.com graph. But it is still a good way to reach your professional and personal peers. This can surely help to expand your client base, which ultimately will lead to more traffic to your website.
Want to know more? I will write a blog on this topic soon. Stay tuned. 😉
Try giveaways, influencer marketing and email list building
There are some specific marketing strategies that have an increasing level of success in the last few years. They all revolve around the customer journey: basically, they are about making your audience happy and hence creating a positive spiral effect where they share, buy, tell their friends, and so on.
This then leads to more traffic to your website.
Let me be more specific.
Giveaways are generally products that you give away, directly or via some sort of contest. In return people have to e.g. subscribe to your email list, tag someone in the comments, follow your page, share the post… This way more people see your page or product and by consequence find their way to your website.
Another popular marketing strategy nowadays is influencer marketing. Influencers are the new celebrities. In fact, according to Think with Google YouTube influencers are way more effective for brand promotion than actual celebrities. One popular way to engage influencers is by asking them to promote your product or service. In turn, you give them a free sample or stay at your hotel, or whatever it is you can offer. Another option is simply to pay them. The goal is of course that people end up on your website, which is usually linked in the influencers' Instagram stories via swipe-ups or links in bio.
Most influencers I have worked with (in Belgium) ask 50 to 150 euro for an Instagram story with images, screenshots... For video content, their fee is generally about 3 to 5 times higher. You work with an influencer bureau to help you finding the right influencers, but personally I have experienced that the costs are way to high, and it is actually easier to contact influencers directly, at least if you know where to find them.
Email list building is an effective marketing strategy, as well as a good way to increase traffic to your website.
Also worth mentioning is building an email list. You can do this by making a landing page with a form on your website, which – upon filling in their email address and clicking a button – gives people an attractive free item, such as an e-book, a free webinar… Usually, it is sent to their mailbox. This will automatically bring traffic to your website, whether or not actually fill in their email address or not.
When you include a checkbox to subscribe to your newsletter, you can now start sending newsletters, discounts, whatever you wanna sell or promote directly to these people via mail. Don't forget this checkbox, or else you are not GDPR compliant!
The best way to attract your audience to subscribe to your email list is via social media.
Of course, email list building is not as easy as it may seem. You may need to talk to a good web designer to implement the form on your website and figure out a good social media strategy. In any case, I will not get further into it here, since I don't do it myself.
Learn and implement SEO
Most entrepreneurs cringe when they hear the word SEO… And there is a very good reason for that.
SEO is a very complex and constantly changing business and – to be honest – only people who work behind the scenes at Google itself will know exactly why your website is or isn't ranking…
That being said, there is HOPE, because there are many useful tips and tricks that will definitely help you with your website's SEO.
Now, what is SEO? They explain it well in this video:
As a content writer, I have quite some up-to-date knowledge on SEO, which I learned 'on the job'. However, you might think 'That may well be, but I would like to hear it from marketing authorities'.
Fair enough. But how to spot those SEO authorities?
Authorities in the SEO field are actually easy to spot. Here is why. The ones you find first on Google, typing in say 'SEO tips', 'how do get more traffic using SEO' and so on – after looking over the paid ads of course – have probably done quite a good job on their own website's SEO. Else you would not have found them on page 1 in Google.
Hence what they claim about the topic is most likely true. Examples of authorities/websites I know and where I found lots of interesting and up-to-date info on SEO are:
wordstream.com
hubspot.com
semrush.com
neilpattel.com
That being said, I would still like to share some SEO basics and some easy-to-implement tips that I have seen 'working'.
But Let's start with what doesn't work. Though some marketing gurus still swear by it, stuffing your blogs with tons of keywords and writing long content – even if it means repeating yourself – just for the sake of SEO no longer works.
Google is on to that. And with good reason. What is crucial for your SEO strategy in 2021 is user experience. What are people really looking for? Are you answering there questions well, are you backing your content up with correct and well-researched data, is this content easily scannable and easy to read, etc., etc.
I will share a bunch of out-of-the-box SEO tricks in my next blog. So stay tuned! Examples are backlinking, CTR optimization, using pillar pages and optimizing your website's design. By the way, I can help you with your brand strategy, web design, graphic design, content and more.
57% of internet users say they won't recommend a business with a poorly designed website on mobile (Source: sweor.com)
However, all that does not mean keywords should be completely ignored.
So some words on… keywords then.
Do the following.
Look at keyword volume and competitiveness.
It is absolutely useless to write a blog about a topic or keyword with a 10k or up search volume with high competitiveness. Why? Because well… nobody will read it. The competition on the topic is simply too high. Especially if you have just launched your business and website, you better go for the low-hanging fruit. So, learning more about low-volume keyword strategies is particularly interesting for startups and small businesses.
Use a keyword tool, such as SEMrush, Ahrefs or Ubersuggest (free).
Pay attention and look into keyword intent and LSI.
Put your keywords…
A. in the beginning of (H1 and H2) (sub)titles and content, domain names, hashtags in social shares and meta descriptions of blogs;
B. in the names of images and name-images-like-this.jpg;
C. in titles, alt texts and descriptions of images.
BUT: avoid using exactly the same phrasing or long-tail-keyword in each of those (H1 titles, content, image names, etc.).
So, play with it. Don't make it a keyword-stuffed blog.
Try paid advertising and affiliate marketing
Paid advertising is a form of online advertising where you simply invest money to reach new potential customers. This marketing technique is based on what the target audience of a company is interested in, their intent and previous activity, which is basically what they have searched for or clicked on previously.
There are different types of paid advertising that are used by most companies and work well. I will not get into detail and will limit this section to simply pointing out which ones they are. In addition, I would advise contacting a marketing expert if you want to go ahead and start up paid advertising. It is not something that you can do easily on your own. Believe me.
Google Ads, previously named Google Adwords.
Mail ads. Check this tutorial if you want to learn how to do this (small scale).
Social media ads. You can promote or sponsor your posts on Instagram, Facebook, Pinterest and LinkedIn. To run Facebook ads, you have to select a target audience and connect your credit card. It is actually not that hard. The hard part is knowing what content or post to push on Facebook.
Besides that, there are some other marketing strategies, which include paying in order to get clicks, sales or leads, but are not per se paid ads. In this category, we should mention affiliate marketing. As a company, you basically pay when people fill in their email address and/or other contact data, click on your link or buy something. These costs are respectively called CPL, CPC and CPS.
For affiliate marketing you have to work with affiliate networks. Some networks I know that operate the Flemish market are Daisycon, TradeTracker and iMailo.